Top 25 Markets to Buy a Vacation Rental
Of course I am bringing this to you because of what I found online the other day.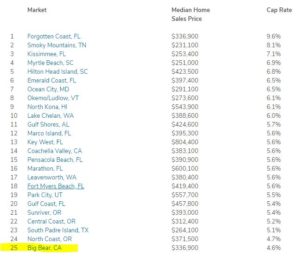 Vacasa is a vacation rental management company and they put together a list of the top 25 places in the U.S. that do well as a rental…. How's that for enjoying your investment…
Here is a link to the full article, yes it is full of Florida but, you see what little resort town made it to #25?
Because the cabins and homes in Big Bear are not cookie cutter and views and amenities are a huge factor in our resort town, the type of marketing your property receives along with what your are offering your guests has a lot to do with what income you will receive.
Interested in what a Cap Rate is? It is the rate of return for your investment based on the proposed income generated (less operating expenses and vacancy). This is a very simple definition and there are on-line sources with detailed explanations and calculators to check out.
Want to see what is available? Updated, current information below
You may search all neighborhoods/areas of Big Bear HERE
See newly listed properties for sale (10 days or less in local MLS) HERE