Guidelines and Best Practices for Re-opening Businesses in Big Bear
Back To Big Bear May 26, 2020
https://www.bigbear.com/big-bear-visitor-checklist/
---
Update for May 22, 2020
As the City of Big Bear Lake has respectfully decided to forgo enforcement of the Governor's shutdown orders, it is more important than ever that our Community, Businesses and Guests all continue the amazing efforts and progress we've made to minimize the effects of the COVID-19 disease.
The City has approved a Re-Opening Plan designed to keep our community and guests safe as we begin to re-open businesses, lodging, restaurants, and recreation. The threat of a spike in coronavirus cases is still very real and it will take the cooperation of everyone in the Valley – residents, businesses, and tourists included – to follow the City Council's Plan.
Read the full guidelines from the City HERE.
Read COVID-19 Best Practices & Community Guidelines from Visit Big Bear HERE.
Your cooperation is greatly appreciated as we continue to revive and rebuild our community!
– Michael Perry, CEO, Visit Big Bear
---
Big Bear Lake Opening Guidelines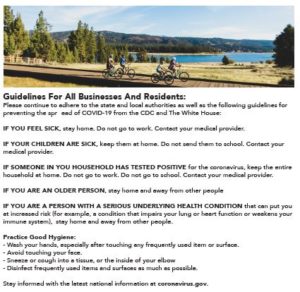 This document contains condensed information from multiple sources including the CDC, EPA, FDA and national associations/organizations. The goal of this document is to help your business establish visitor and local trust.
As I receive updated information via email, I will update this document.
… a few more links…